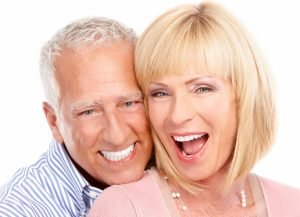 Missing teeth have a major impact on our ability to chew food, feel comfortable, and even display a confident smile. Our goal at Coventry Dental Care is to utilize dental technology to its full potential in order to help restore your natural smile and self-esteem.
While traditional dentistry can address some of the challenges of missing teeth, dental implants have revolutionized the way we can help patients replace lost teeth. Whether you have one or more missing teeth, don't hesitate to call us to discuss your options.
COMPUTER GUIDED SURGERY FOR EVERY CASE
All of our dental implant cases are treatment planned and executed with the help of 3D computer software. The software helps us visualize the end result of dental care prior to us performing any treatment. This technology helps us by making the implant surgical phase more predictable.
DENTURES SUPPORTED BY IMPLANTS
Studies show that conventional dentures replace less than 20 percent of the chewing ability of natural teeth. While we provide traditional complete and partial dentures to our patients, we encourage everyone to consider dental implants as part of the overall treatment plan. With dental implants, we can help secure existing or new dentures to enhance their function and aesthetics. There is also the possibility to move away from a removable option (i.e. the dentures coming in and out of the mouth) to a fully fixed solution where the dentures become permanently secured inside the mouth, giving rise to both a natural and comfortable outcome. We can also remove the palate ("roof of the mouth") part of existing dentures to enhance taste and comfort.
FULL MOUTH RECONSTRUCTION WITH DENTAL IMPLANTS
In certain cases, the remaining natural teeth are beyond repair. In this situation, we will always discuss the option of providing a full-arch dental implant restoration. With this technique, we are able to give patients the natural smile they deserve and want. This is a highly individualized dental implant solution where we create a unique smile. You will be able to choose the size, shape and custom color of your new teeth. Some say this treatment type is more art than dentistry. For all of your dental implant and cosmetic dentistry needs contact our office today!